What is Responsive Logo Design and Why is it Important?
In the marketing and branding world, the term "responsive" is typically used in website development. A responsive website responds or changes to fit the user's screen size.
The layout of a website on a desktop computer is completely different than on a tablet or phone—and that change happens automatically. Furthermore, if you move your phone from a horizontal to a vertical position, the website layout will respond to make full use of the viewable space. Because who has the time (or ability, or desire) to read 3-point text? Bottom line, website responsiveness improves user experience. Now, consider applying that same responsive principle to your logo. With today's huge variety of communication platforms and devices, your logo should adapt. A responsive logo design allows you to maintain brand consistency while also giving your brand the flexibility it needs to connect with your audience in as many ways as possible. So, arm yourself with variations of your logo that will work with different sizes and formats. As the media gets smaller (think desktop to Apple watch), the logo should become simpler and more streamlined for the smaller space. Words and/or elements can be removed from the full logo to make this happen.
The Disney logo is a great example of this:

Another option is to create a wordmark and an icon that can be used interchangeably or together.
Google and Hubspot are examples of this approach:

The recently updated Dunkin' brand is an example of how responsive design is used in the marketplace: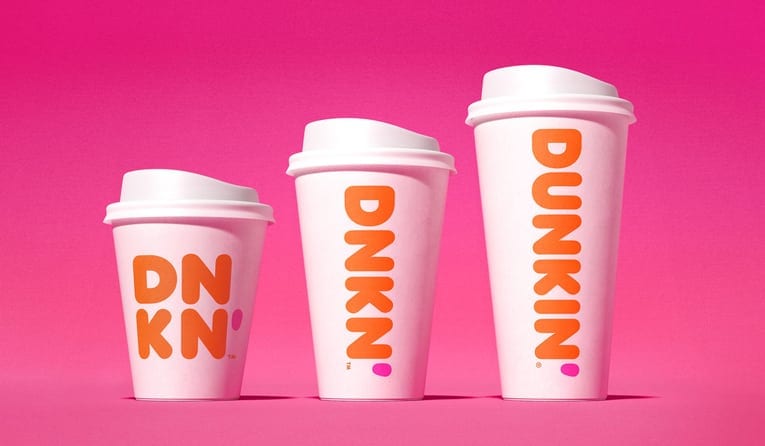 Why is having a responsive logo important?
Your logo is only one tool in your brand toolbox, but it's an important one. Make sure it's serving you well and representing your brand in the best light—regardless of the media or marketing channel. If your logo isn't legible or rendering correctly, that can reflect negatively on your brand. A logo that works in a horizontal format will not work equally as well in a vertical format. Likewise, a logo that reads well on a large sign will not work in your social profile. A variety of logo formats gives your brand flexibility, credibility, and ultimately shows your audience that you understand how they want to interact with you. In order to meet the ongoing needs of our clients, technology, and expanding marketing channels, we've transitioned to this new design process. Below are a few examples of our work, including our own logo.