Is a Mascot Right for Your Business?
Think back to the first time you met a mascot.
Maybe it was a Disney character at a parade, Smokey the Bear at a holiday festival, or a high school or college mascot at a sporting event. Either way, I guarantee that there was something magical about that moment. You can see it on the faces of children and adults alike—mascots get our attention.
Everyone knows the Geico gecko, right? What about Ronald McDonald? Mascots are not only awesome, fun and kid-friendly, they really are tools to help build and strengthen your brand identity. But is a mascot right for your business?
Before investing in a mascot, there are a lot of things to consider.
Is there a specific campaign launch or new product that you are trying to sell? Could a mascot help differentiate or promote this product for you?
Do you currently attend trade shows and events? Would a mascot engaging with your customers and/or potential customers at events like these be of benefit?
Do you have a specific person in mind that you would hire to be your mascot? (Please note, it takes skill to be a mascot and training is necessary.)
Do you have a safe, clean and dry place to store the mascot costume while it is not being used? (Keep in mind: You will want to make sure you have cleaning supplies to sanitize the mascot before and after each event.)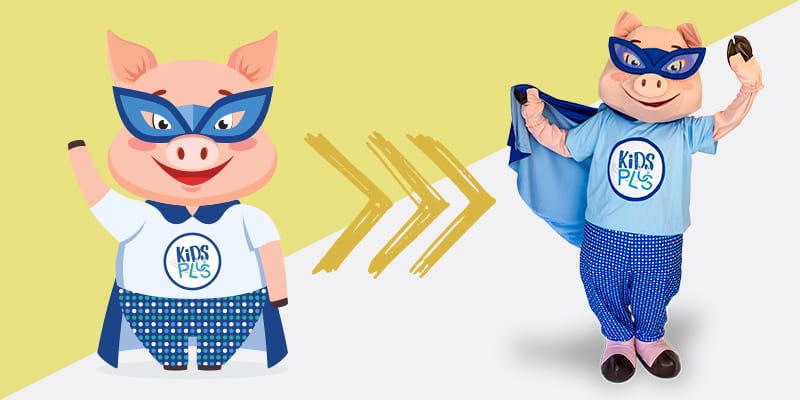 Warp + Weft recently created the mascot of Penny the Pig for the launch of a new children's program developed for client Auburn Savings. From initial drawings to life-sized pig, the process of making a mascot is a serious and involved, but well worth the payoff in the end.
What's involved with making mascot?
It's crucial that you take the necessary time and consideration needed to develop the right mascot that best fits your brand. There are quite a few steps that go into creating a custom mascot, so you should give yourself a timeframe of roughly five to seven months until completion. First, you need to design the mascot. Choose a professional mascot designer to develop the mascot for you. There is nothing worse than seeing a homemade or store bought mascot out there—you don't want people to think you bought your mascot online for $50.00! Let the experts take care of the design; there is a true art to mascot design. I mean, who would even think about putting a fan inside the head of the mascot so that you can breathe easier when in the costume? A professional mascot designer, that's who!
Once you have the design, you will need to think about everything from the top to the bottom: the head, body, feet, hands, logo items and accessories. You will want to ask yourself the following questions:
Do you want the hands to be functioning?


How tall do you want the mascot to be?


What special features do you want your mascot to have?


What type of footwear do you want the mascot to wear? Do you want the feet to be separate pieces from the body of the mascot?


Is there a certain material you want the mascot made out of? Seeing, touching and reviewing swatches of fabric before buildout is encouraged.


Where do you want the viewing partitions to be located? (Where the mouth is? In the nose area; etc.?)


Are there accessories that you would like your mascot to have? Should these be attached or detachable?
You'll also need to consider budget. A custom mascot could cost you anywhere from $4,500-$8,500. If this seems high to you, trust me, it will be worth it for the cost you are paying per thousand of impression you are receiving in the market. Today's media market is so saturated with print ads, television commercials, digital and social media ads that it's very easy for your message to get lost in the shuffle. Digital marketing experts estimate that most Americans are exposed to around 5,000 advertisements each and every day. That's a ton! Mascots are super economical and cost effective marketing tools that will garner you results and gain attention unlike any other marketing tactic. It may just be the answer you are looking for to help you rise above the marketing noise you're up against. In the end, your mascot should be something that truly reflects your brand, that you are extremely proud of and want to share with the world!